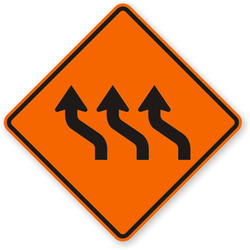 Occasionally, during reconstruction of old road, there is a mandatory LANE SHIFT. Of course this isn't essential if we could tolerate reduced traffic flow to single-file throughout the construction. But as it is, to uphold the flow and handle the quantity of cars, we are accustomed to keeping our lanes open while having every driver shift together when crossing a particular point. If ever you have encountered one of these Lane-shifts, by experience you know there are four critical values to be vigilant in:

1. befriend the interchange in front of you
2. behold the capricious range beside you
3. beware the rough exchange beneath you
4. belay that lane-change next to you

Christianity too has lane-shifts that we must be vigilant of. Usually these occur in the church both when old programs are being replaced and when weathered administrations are being refurbished. By nature we want to keep our own lane open rather than merge with some other crazy driver's idea that will slow us all down, yet, this method requires that we use the same four values above towards our brother and church group.

1. seize the change ahead; forget what lies behind
2. things come and go quickly; be vigilant of your own course
3. change is not smooth, so be prepared to accept some bumps
4. don't leave 'til things finish, you'll enjoy liberty as new lanes open up

Be careful not to honk when the lanes shift and the space required to get through the church reconstruction puts the squeeze on your worship driving style.