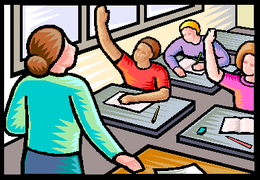 Exodus 13:1-2
Then the Lord spoke to Moses, saying, "Sanctify to Me every first-born, the first offspring of every womb among the sons of Israel, both of man and beast; it belongs to Me."

"No Child Left Behind" was a federal program enacted back in 2001 under the Bush administration. The goal for this program, whether or not it was able to accomplish the feat it set out to perform, was that everyone should get a standardized education, with "no child left behind" due to poor schooling.

No argument can be made against such high hopes to help children more fully reach their potential and escape the deficiency that was surely the fate appointed to them by their current setting. Yes, we desire children to attain great things: it's the beauty of seeing a budding plant blossom into an ornately decorated flower. So much possibility is packed away inside toddlers & small people that a good person can't standby without helping to unwrap the kid-size box and take off the crate cover. However, it goes without saying, when education is at the point of needing federal government to stick its nose into schooling children, consequently there will be restrictions added which will actually hinder the education process, sadly, resulting in children being left behind… but the hope is that fewer will be left behind than if no federally enacted curriculum had been made at all.

Now instead of the American nation, we come to the place in our story regarding God's Israelite nation, the Hebrews. These people are often referred to as "children1" who are undergoing a training process2. They will have been newly born unto Moses through the sea and under the cloud3 in their exodus from Egypt. Hopes exist that they will escape their deficiencies of their current setting and reach a greater adult standing. In case you think this is only symbolic, their faith and conduct was nothing short of exhibiting childish rants knowing not what was good for them4. True that Jehovah was their Father, but He also was their new Schoolmaster5. Therefore, He was in charge of both bringing them up in a sensible education & being the governing body that would implement proper legislation. He must affirm that "no child be left behind" in Egyptian deficiency nor from wilderness insufficiency.

At first glance, you may not recognize the federal program God implemented for His nation. Israel set out on their journey towards maturity and the only thing God says regarding this program initially is that "every first-born…belongs to Me." This sanctifying work was essentially Jehovah telling the entire nation that "I will see to it in comprehensive application that every child of Israel is advanced out of provincial life and introduced into spiritual sophistication. I want EACH first-born under My jurisdiction. I want access and control over them." Now if you're not much into Old Testament language, then you'll need to know that taking on the first born is a symbolic decision which means "I am taking on the whole family as my own6." God had made it possible for ALL Israel to be delivered from Egypt, it stands to reason that He wanted ALL Israel to be His.

However, like many federal programs, God's initial decree failed to produce the desired result. This happens frequently on a federal level because the law fails to penetrate and change the heart of those individuals that it seeks to govern7. And so there arose from the mixed multitude a rabble among the people who encouraged rebellion against Moses (an act of defiance against God at its core). It wasn't long—within a few weeks—before the masses were turning aside from God and making their own deity to follow. Soon God had to revise his "no child left behind" enactment for a more individualized program. He would choose only the honor students, Levites, to take aside personally. Through them His ministry would perform effectively8. They were faithful in desiring higher learning9.

What do we learn from all this? We too are children going on to maturity10 through a vast desert terrain. God truly desires to have "no child left behind" in this process. He makes a wide-sweeping enactment to the masses the world over that He will sanctify to Himself all those born in every family (Acts 2:21). However, He had to personalize this decree for a more pointed selection of those who would desire life in His tabernacle (His church)11. He does His best to reach each family and make them His own, not only in name, but in heart. But, while God reaches to grab a hold on us, each of us must respond to his sanctifying work over us by an inward desire growing out from us—all the enactments in heaven cannot make you His inwardly—you must grab a hold of Him through a regenerate heart and be added to His church. Don't get left behind…you will surely die being subject to the elements of this world. It is not friendly to the soul of man. All perish in the wilderness without God.