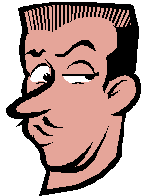 Those see nothing but faults that seek for nothing else —Thomas Fuller, M.D.

In antiquity, the Hebrews wandered a wilderness with Jehovah pitching His tent right alongside them.11 However, this was no ordinary tent. It was a multi-million dollar12 transportable memorial where God could be visualized tangibly by various artifacts strewn throughout the museum.

Getting a peek into this gallery was a marvel12. Without digging up lengthy history on each component, the NT gives a proper sense of the wonderment that went into the craftsmanship13 of the tabernacle and its furnishings. It says of its caretakers, "They serve at a place that is a pattern, a shadow, of what is in heaven."14 In other words, if you think heaven is going to be a marvel, this tent is just a shadow away from the real thing. Step inside the tabernacle and have a look around. What do you see?
brilliant
white fences sprawling in every direction of the compass sparkling with silver
bands on the horizon15

shimmering
gold walls rising in front of you illumined by candlelight offering you their
thoughtful reflection 15

cavorting
mighty cherubim sewn right into the tapestry overhead signifying to you the
eternal implication15
In almost any direction that you might set your gaze, you will see some majestic relic. You can peek in, look around, stare off in the distance, even gaze upward, and you will see nothing but glory! But if you look down, you will see dirt—dirt inside God's house.16

That's how some people are; they walk among the saints and all they see is dirt. "Somebody has to uphold the standards," they say with a mind to sweep the place clean. Yet, as much as they sweep, there will always be dirt. There's no perfect church, no saint w/o sin. Those looking down will notice the grit of people's lives instead of the glory.