---
Belief in the Holy Trinity

The God we worship is both holy and loving, eternal, unlimited in power, wisdom, and goodness. He is the creator of all things.

We believe that God exists as three separate and independent persons working together in such perfect union that the essence of who they are can be described as being one and the same – existing as a singular "Godhead".

Although God is one in nature, He exists as a "community". To illustrate, mankind mirrors this "community" existence: God's image is replicated in a healthy marriage where two separate individuals are working in such singular union towards the same goals that they are as one unit.

The Deity we worship make themselves known to mankind in three unique persons holding distinct positions:

THE SENIOR [FATHER] – relating to humanity primarily (though not exclusively) as an earthly father does with his family.

THE SON – revealing the Father to humanity, while himself being the Father's sole begotten son, Jesus the Christ

THE [spiritual] SERVANT – dispensing help (grace) and rendering services in varying degrees to humanity: stimulating and empowering virtuous ministries IN Christ's disciples as well as building and deepening relational intimacy WITH all mankind. His benevolent graces vary according to each person relationally: namely that He is IN, UPON, & FOR those belonging to Jesus, yet still WITH all humanity.

---

Belief in Man's Destiny

We believe that man was created to exist in community towards his neighbor and his God with an original purpose and destiny: like Adam's original purpose in Eden; we are calld to inhabit, influence, & tenderly shape the world (not of soil but of souls) in which God placed us. This is God's means of affecting nations, families, & individuals —by Christ-like constructive fellowship with God and man.

This purpose of impacting souls, we believe, reaches its destiny in life after death. The quality of this afterlife, be it heaven or hell, is determined by our level of cooperation with, and submission to, God's purpose for us.

---

---

Belief in the Inspired Copy

We believe that God's Word is inspired and infallible. It is fully inerrant in its original manuscripts. It is superior to all human authority. It is to us what a staff is to an elderly man—helping us walk all manner of worldly terrain in order to arrive securely to our promised eternal destination. It is our only creed for the conviction of the soul.
---
Belief in Personal Choice

We believe that humanity is endowed by his Creator with the ability to choose between right and wrong. The natural carnal bent of man has become clearly evident in his choice to reach for knowledge & power independently of God. Our control of personal choice, in its self-gratifying use, has left humanity in sin and disobedience towards a loving God.

Belief in the Atoning Voice

We believe that Christ's offering of Himself on the cross is a loving act with its repercussion spanning all eras of time. This act provides the perfect covering & "buy-back program" [redemption] for any wanting to return to the Father's possession after having pawned themselves into sin.
---
---

Belief in a Precise Converting Course

biblical baptism=total Immersion

We believe that for men and women to enjoy the grace God has made possible through His Son's work of atonement, they must
¤ FIRST: simply hear & understand this finished work.
¤ NEXT: readily believe-in & confess-to the power of this work.
¤ FINALLY: believers must repent & be baptized into this work.
All believers become true disicples by this final decree which confirms, completes, and concludes their initial path to conversion. For Christ gave His ruling that, at the precise point one submits to adult water immersion, an individual would be immediately sanctified, justified, regenerated & adopted as a child of God

---
---
After submitting fully & obediently to God's precise plan for atonement, four actions occur immediately upon & within a Believer:
Sanctification

[onward work]
We believe that sanctification is the custodial act of God whereby a person is being safeguarded and separated from sin, ceremonially preserved in the ledgers of heaven, designated for salvation, and presently kept secure from eternal destruction

Justification

[outward work]
We believe that justification is the judicial act of God whereby a person is legally accounted righteous, granted full pardon of all sin, delivered from guilt, completely released from the lawful penalty of sins committed

Regeneration

[inward work]
We believe that regeneration is the Spiritual act of God whereby one's animal nature is given a spirit-sided-self. The carnal soul, being introduced to this newfound spiritual nature, now has access to eternal life with continued growth thereunto

Adoption

[upward work]
We believe that adoption is the familial act of God whereby the sanctified, justified, & regenerated believer is immediately inducted into and becomes partaker in all the rights, privileges, and responsibilities of the family of God
Note the two perspectives: Sanctification is when God has a hold on you; Regeneration is when you have a hold on God.
---
Belief in the Church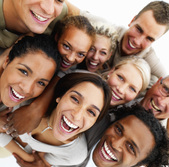 We believe that, just as an earthly house is a dwelling of safety and comfortable ambience for the natural man, God has constructed a residence of eternal security and atmosphere of encouragement for the follower of Christ. Since God's home is of a spiritual quality, not made with hands, any believer throughout the world may take up habitation in this home no matter what their location.

We believe that this powerful gathering of people is named "the church, the house of God" and is where God chooses to take up residence. Anyone who is not adopted into this home OR neglects their spiritual brother within this home, does not have God: the church is God's ONLY "floor-plan" to offer salvation.
---